At BEERSTRO 14
the world feels like a bubbling steak house, with an infinite strand of meat connecting everything
and everyone.
Located in the heart of Budapest we offer you our excellent beer list, the huge wine list or our eye-catching cocktails, which make a unique and exciting dining experience with our steaks and much more…
Sit down, look around, choose something from the menu, and we guarantee you won't be disappointed.
We're looking forward to hosting you soon.
GOOD FOOD, GOOD BEER, GOOD PEOPLE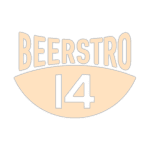 BEERSTRO14 Projekt Kft.
Tax number: 26254539-2-41